—/20
Checkpoints
arrow_forward
Deployment Manager - Automating Network Deployment
1 hora 20 minutos
9 créditos
GSP220

Overview
In this lab, you create a Deployment Manager configuration along with templates to automate the deployment of a custom network. Specifically, you deploy 3 networks with firewall rules and VM instances as shown in this network diagram: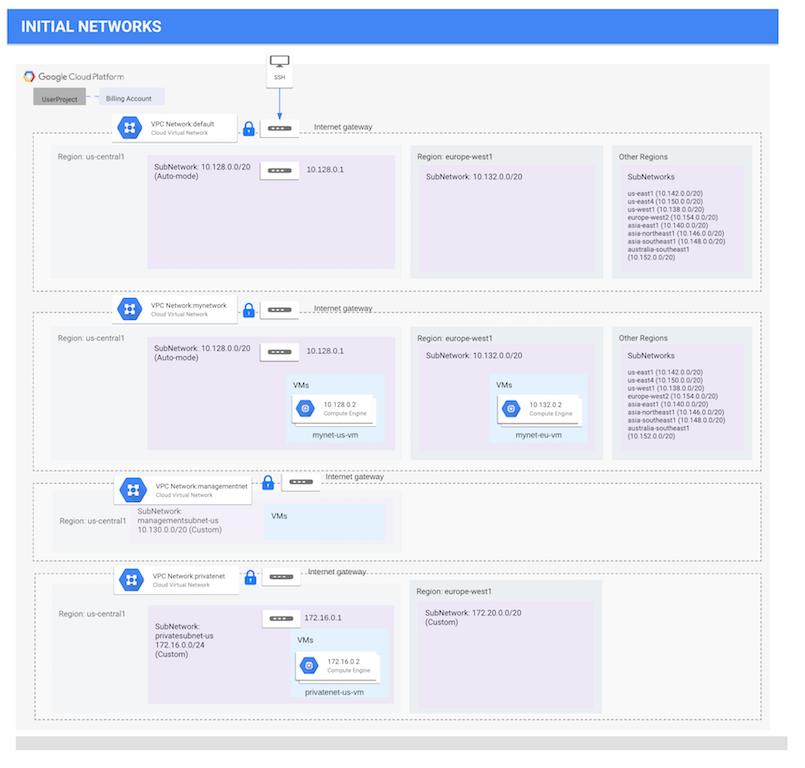 The configuration you create in this lab makes use of template and environment variables.
Template variables are abstract properties that allow you to declare the value to be passed to the template in the *.yaml configuration file. You can change the value for each deployment in the *.yaml file without having to make changes to the underlying templates.

Environment variables allow you to reuse templates in different projects and deployments. Instead of representing properties of resources, they represent more global properties such as a Project ID or the name of the deployment.
Objectives
In this lab, you learn how to perform the following tasks:
Create a template for a auto-mode network

Create a template for a custom-mode network

Create a template for firewall rules

Create a template for VM instances

Create and deploy a configuration

Verify the deployment of a configuration
Únase a Qwiklabs para leer este lab completo… y mucho más.
Obtenga acceso temporal a Google Cloud Console.
Más de 200 labs para principiantes y niveles avanzados.
El contenido se presenta de a poco para que pueda aprender a su propio ritmo.
Únase para comenzar este lab