—/20
Checkpoints
arrow_forward
Deployment Manager - Automating Network Deployment
GSP220

Overview
In this lab, you create a Deployment Manager configuration along with templates to automate the deployment of a custom network. Specifically, you deploy 3 networks with firewall rules and VM instances as shown in this network diagram: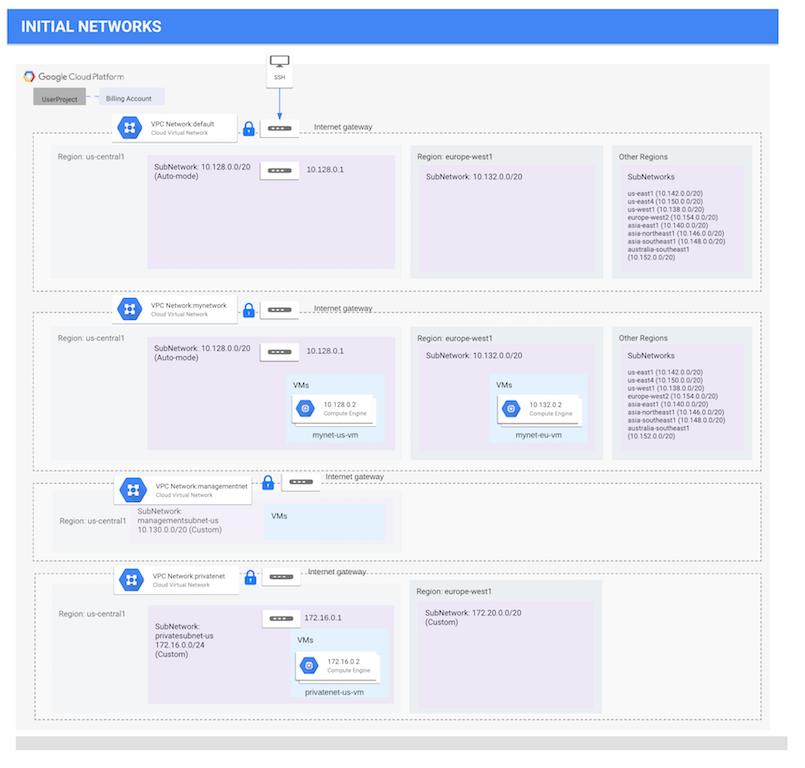 The configuration you create in this lab makes use of template and environment variables.
Template variables are abstract properties that allow you to declare the value to be passed to the template in the *.yaml configuration file. You can change the value for each deployment in the *.yaml file without having to make changes to the underlying templates.

Environment variables allow you to reuse templates in different projects and deployments. Instead of representing properties of resources, they represent more global properties such as a Project ID or the name of the deployment.
Objectives
In this lab, you learn how to perform the following tasks:
Create a template for a auto-mode network

Create a template for a custom-mode network

Create a template for firewall rules

Create a template for VM instances

Create and deploy a configuration

Verify the deployment of a configuration
加入 Qwiklabs 即可阅读本实验的剩余内容…以及更多精彩内容!
获取对"Google Cloud Console"的临时访问权限。
200 多项实验,从入门级实验到高级实验,应有尽有。
内容短小精悍,便于您按照自己的节奏进行学习。
加入以开始此实验