—/100
Checkpoints
arrow_forward
Create a custom network, subnetworks and firewall rules
Create three instances in specified zones for Traceroute and performance testing.
Networking 101
1 godz. 15 godz.
Punkty: 5
GSP016

Overview
In this hands-on lab you will learn how to perform basic networking tasks on Google Cloud (including Compute Engine instances) and how Google Cloud might differ from an on-premises setup. You'll develop a network and 3 subnetworks, resulting in this end-state environment: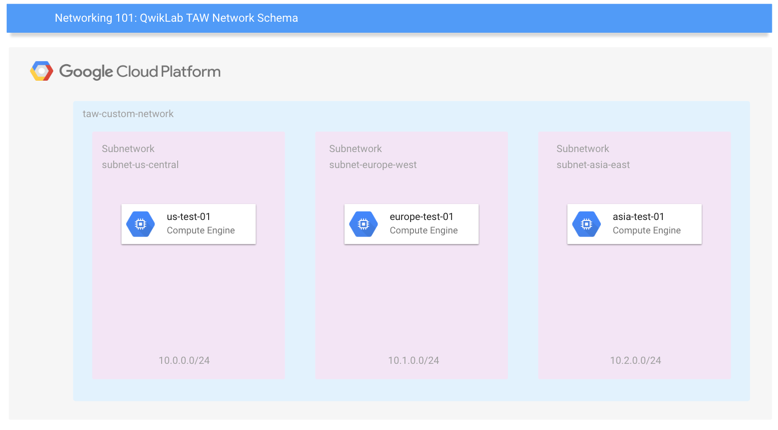 The lab exercises you'll do are ordered to reflect a common cloud developer experience:
Set up your lab environment and learn how to work with your Google Cloud environment.

Deploy a common network with subnets and multiple regions using common open source tools to explore your network around the world.

Testing and monitoring your network and instances.
What you'll learn
Basics concepts and constructs of the Google Cloud networking.

How to default and User-created Networks are configured.

How to measure performance & latency characteristics.

Basic security configurations of Access, Firewall, and Routing.
Prerequisites
Basic knowledge of Compute Engine

Basic networking and TCP/IP knowledge

Basic Unix/Linux command line knowledge
Dołącz do Qwiklabs, aby zapoznać się z resztą tego modułu i innymi materiałami.
Uzyskaj tymczasowy dostęp do Google Cloud Console.
Ponad 200 modułów z poziomów od początkującego do zaawansowanego.
Podzielono na części, więc można uczyć się we własnym tempie.
Dołącz, aby rozpocząć ten moduł