Checkpoints
Design & Create an API Proxy with OpenAPI Specification
Periksa progres saya
/ 10
API Security and API Producer/Consumer Relationship on Apigee
Periksa progres saya
/ 10
Manage tiered API Product subscription through API call quotas
Periksa progres saya
/ 20
Build an App Developer Experience using Apigee's Integrated Developer Portals
Periksa progres saya
/ 10
Measure API Program Success with Apigee Analytics
Periksa progres saya
/ 10
Apigee API Management Fundamentals
GSP867
Introduction
Welcome to Google's Apigee API Management Fundamentals. This hands-on lab introduces you to fundamental API Management concepts and the Apigee API Management Platform. It focuses on giving you an overall understanding of how to build a successful API program with a well managed developer ecosystem. In this lab, you will learn how to manage APIs across all phases of the API Lifecycle - including API design, API Security, Developer consumption, as well as API Analytics and Monitoring.

All of the material here is released under the Apache 2.0 license
Lab Objectives
In this lab you will learn how to perform the following tasks:
API Design & Creation - Design and create an API Proxy from an OpenAPI specification.

API Products, Apps & API Keys - Secure APIs with API Keys, bundle APIs into API Products and understand the association between Apps, API Products & API Keys.

Rate Limiting - Control API Consumption based on API Product tier quotas.

App Developer Experience - Publish an API Products Catalog on a self-service Developer Portal. Test the App Developer on-boarding experience and self-service API consumption, and restrict access to resources using Teams and Audience entitlements.

API Analytics - Measure API Program success using Apigee Analytics.
Lab Prerequisites
For this lab, you will need:
A modern web browser like Chrome (v50+) to access the Apigee Platform UI.

A Remote Desktop Protocol (RDP) client.

A basic understanding of OpenAPI Specification (FKA: Swagger)

Any text/code editor of your choice.

Access to an HTTP client to test the API (eg. cURL, Postman, etc.). If you do not have access to one, you can use the Apigee Debug Tool.
Lab Setup
For this lab, you will need access to an Apigee Organization (Org) and the underlying Google Cloud Platform (GCP) project that the org is tied to. To get this, click on the Start Lab button on the left panel of this lab.

This will generate a student project on GCP and the associated evaluation org for Apigee. This org will be available to you for the duration of this lab.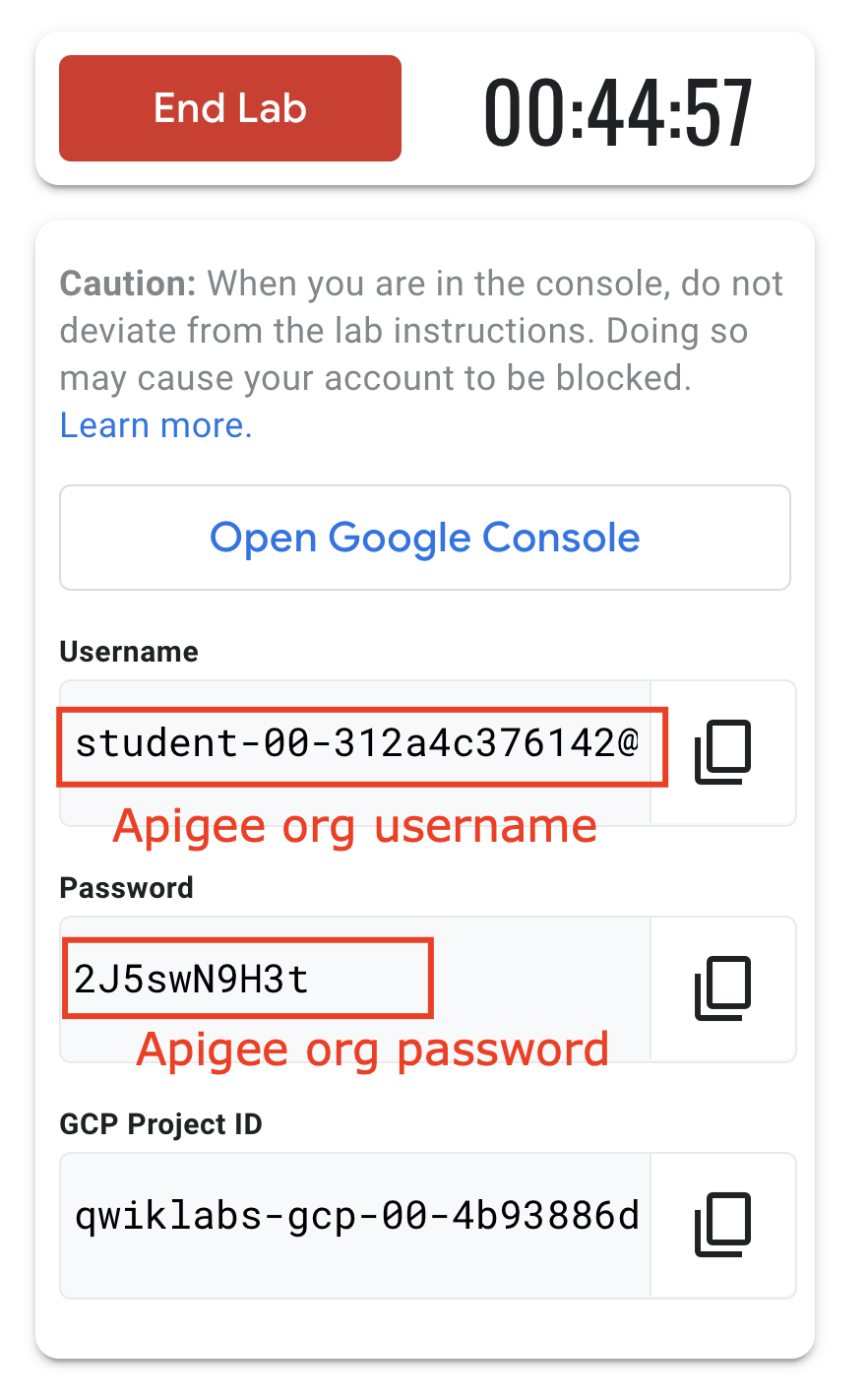 Open a new incognito browser window and log into the GCP console at https://console.cloud.google.com. Use the Username and Password from the left panel (similar to the image above) log into the GCP console.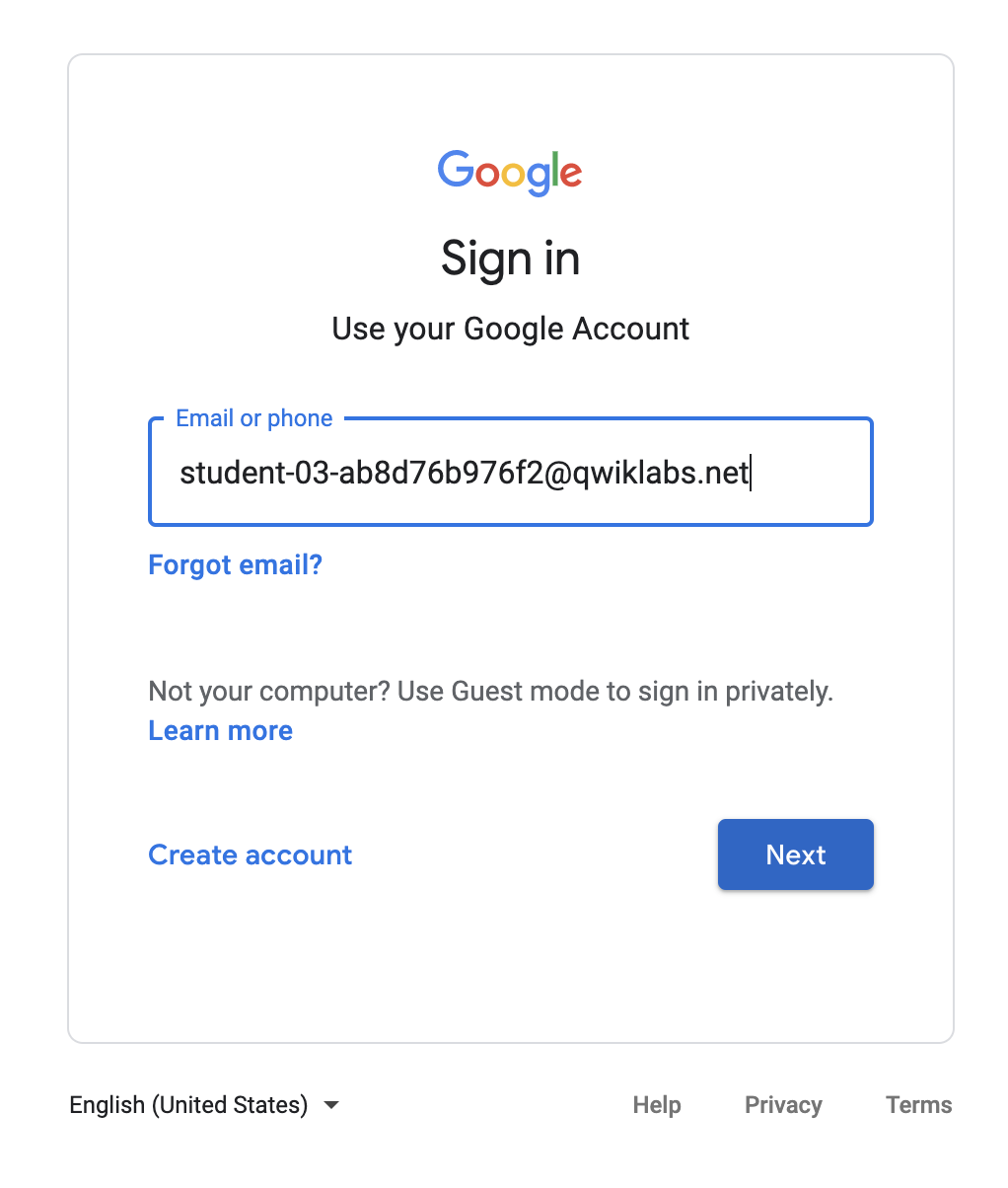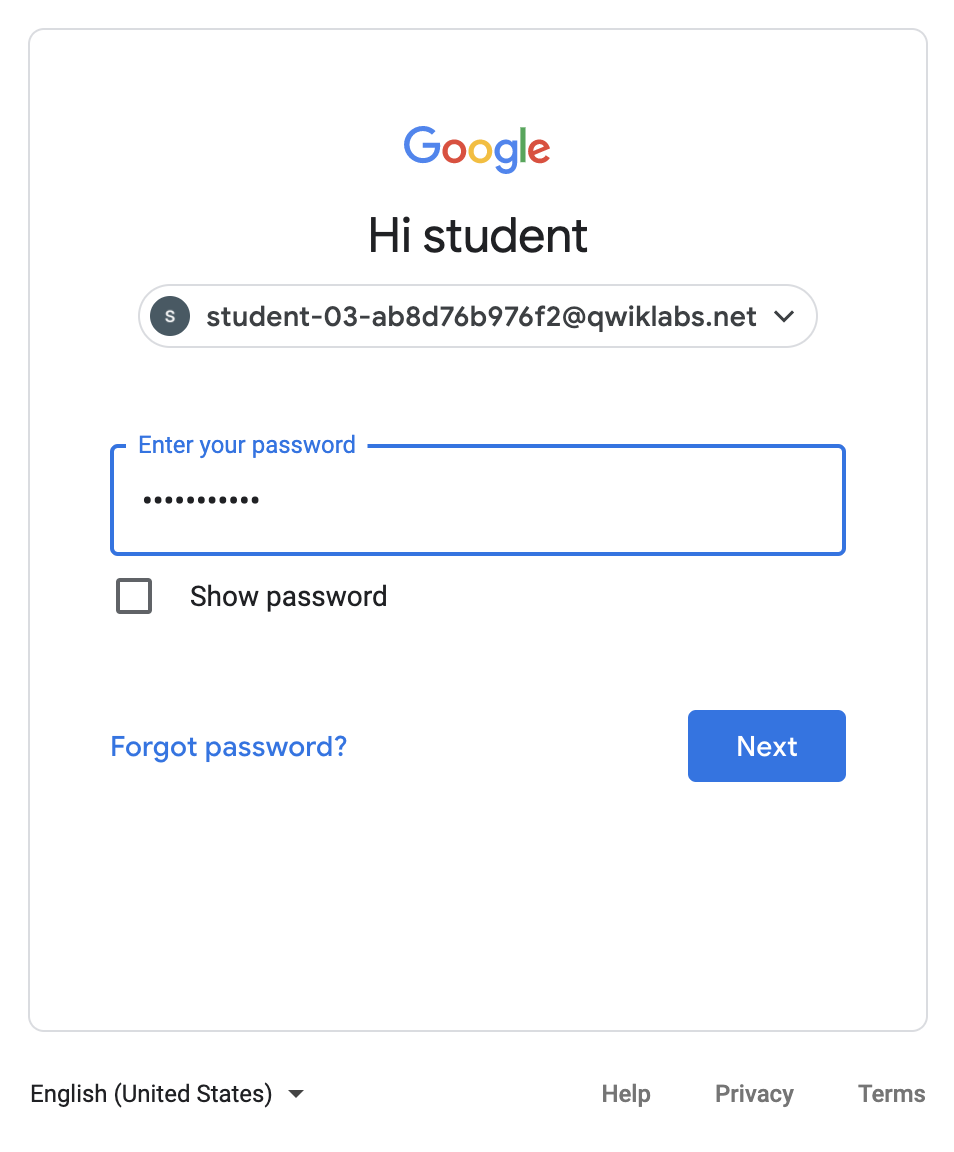 You will need to click "Accept" on the next screen, to accept the Google Terms of Service and the Google Privacy Policy.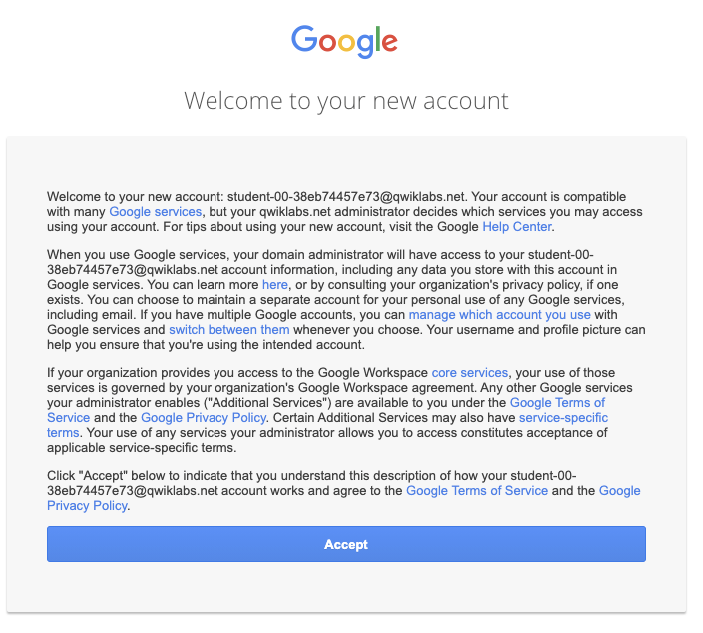 The next screen may ask you to confirm account protection settings. Click "Confirm".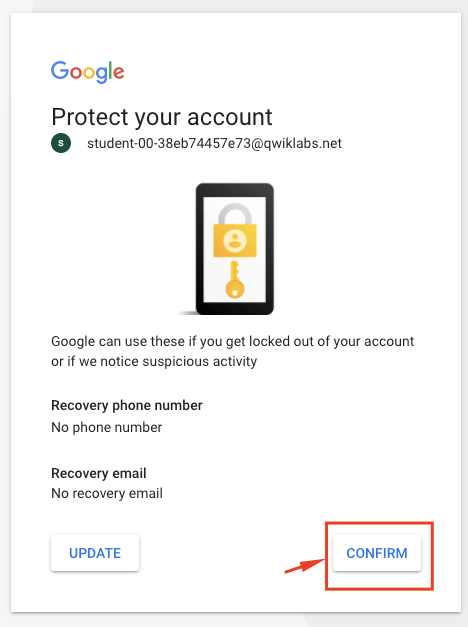 Activate Cloud Shell
Cloud Shell is a virtual machine that is loaded with development tools. It offers a persistent 5GB home directory and runs on the Google Cloud. Cloud Shell provides command-line access to your Google Cloud resources.
In the Cloud Console, in the top right toolbar, click the Activate Cloud Shell button.

Click Continue.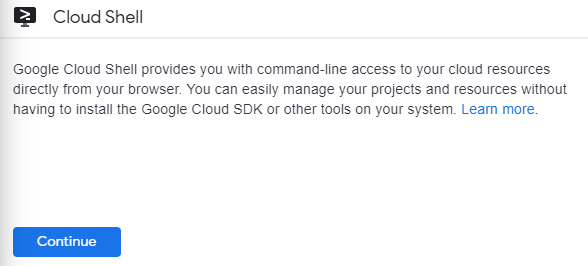 It takes a few moments to provision and connect to the environment. When you are connected, you are already authenticated, and the project is set to your PROJECT_ID. For example:

gcloud is the command-line tool for Google Cloud. It comes pre-installed on Cloud Shell and supports tab-completion.
You can list the active account name with this command:
gcloud auth list

(Output)
Credentialed accounts:
 - <myaccount>@<mydomain>.com (active)

(Example output)
Credentialed accounts:
 - google1623327_student@qwiklabs.net

You can list the project ID with this command:
gcloud config list project

(Output)
[core]
project = <project_ID>

(Example output)
[core]
project = qwiklabs-gcp-44776a13dea667a6

Remote Desktop (RDP) into the Student Workstation
This lab requires that students perform all steps in the student-workstation virtual machine. To RDP into the student workstation open a new incognito browser window and navigate to https://console.cloud.google.com. Use the Username and Password from the left panel to log into the GCP console.
Test the status of Windows Startup
The student-workstation Windows Server instance is automatically provisioned and listed on the VM Instances page of Compute Engine in the GCP Console. To viev the instance, navigate to the left menu > Compute Engine > VM Instances.

The student-workstation instance will not be ready to accept RDP connections immediately as it takes some time for the OS components to initialize. The section below describes methods you can use to RDP into the virtual machine.
RDP into the Windows Server
There are different ways to connect to your server through RDP, depending on whether you are on Windows or not:
If you are using a Chromebook or other machine at a Google Cloud event there is likely an RDP app already installed on the computer. Click the icon as below, if it is present, in the lower left corner of the screen and enter the external IP of your VM.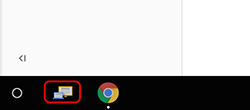 Alternatively, if you are on a Windows machine, you can download the RDP file by selecting it from the RDP menu.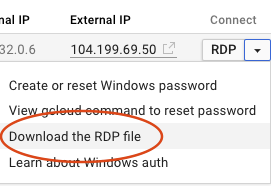 On Windows, you can simply double click on the RDP file and login using the Windows user and password.
If you are on a Macintosh, there are several freely accessible RDP Client packages available to install, such as CoRD.
After installing, connect as above to the External IP address of the student-workstation Windows server. Once it has connected, it will open up a login page where you can specify the credentials below to log into the machine:
Username: student
Password: Learning123!
Once logged in, you should see the Windows desktop!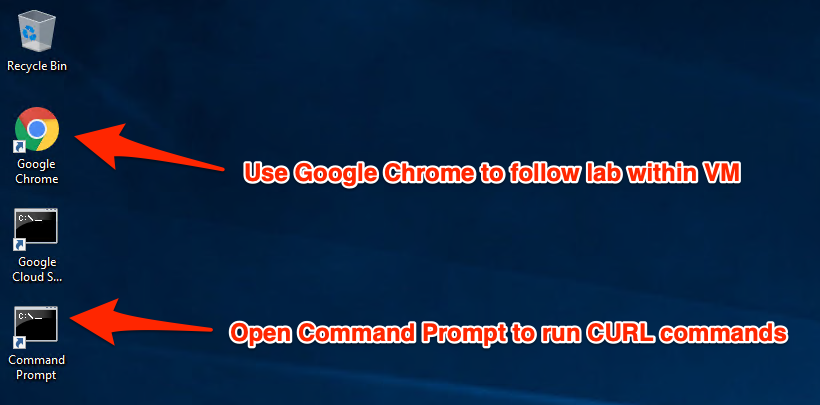 Copy and pasting with the RDP client
Once you are able to RDP into the student workstation VM you will perform the steps for each section below while connected to the student workstation VM.
During this lab, you may find yourself copying and pasting commands from the lab manual. You can copy and paste instructions from the lab guide into the student workstation VM.
To paste, hold the CTRL-V keys (if you are a Mac user, using CMND-V will not work.) If you are in a Powershell window, be sure that you have clicked in to the window or else the paste shortcut won't work.
If you are pasting into putty, right click.
Accessing the Apigee Org
To access your Apigee org, open the Chrome browser shortcut found on the desktop of the student-workstation VM. Navigate to https://apigee.google.com and log in using the Username and Password provided earlier.
You will then be led to the Apigee Platform UI.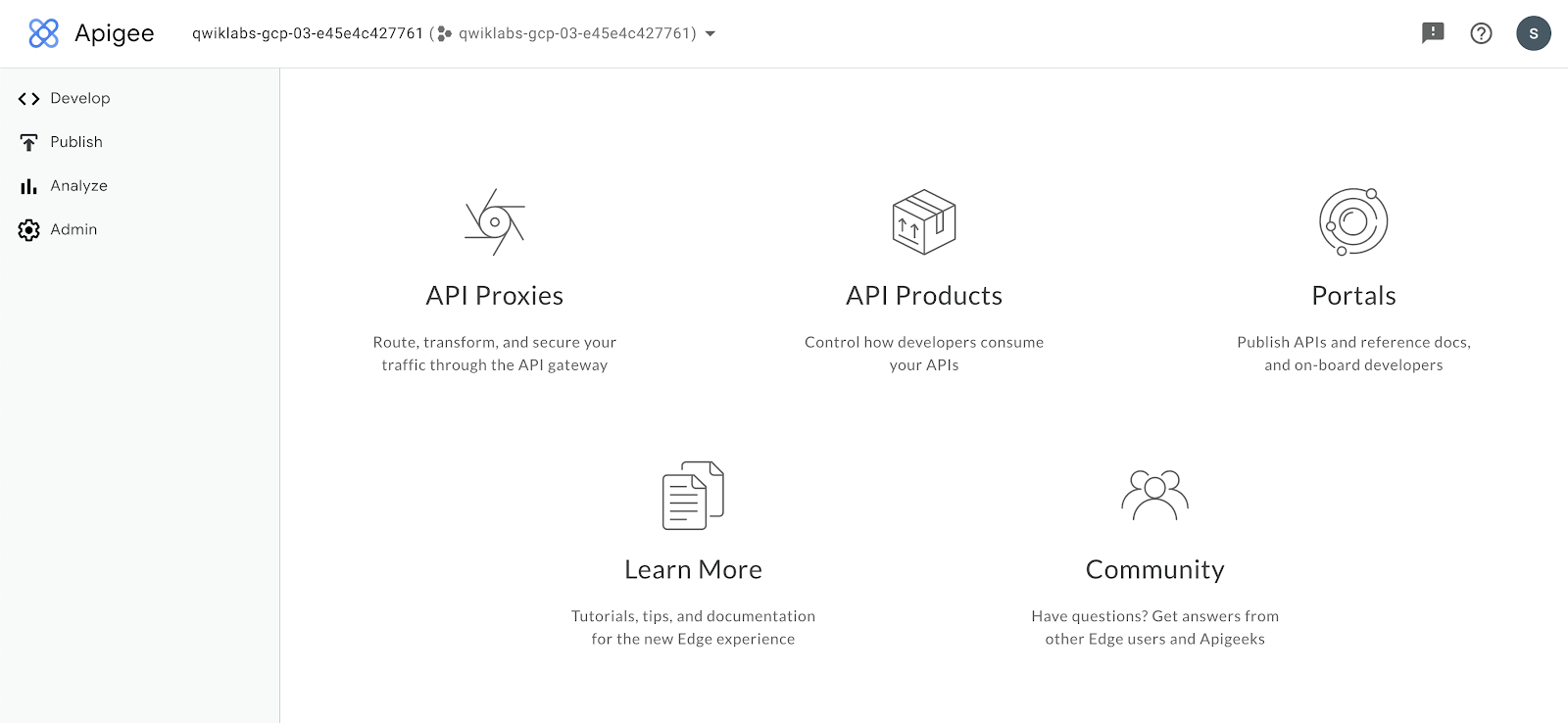 You will utilize the student workstation VM to complete the remaining sections of this lab.
You're now all set to get started with this lab!
Bergabunglah dengan Qwiklabs untuk membaca tentang lab ini selengkapnya... beserta informasi lainnya!
Dapatkan akses sementara ke konsol cloud.
Lebih dari 200 lab mulai dari tingkat pemula hingga lanjutan.
Berdurasi singkat, jadi Anda dapat belajar dengan santai.
Bergabung untuk Memulai Lab Ini