Hangouts Chat bot - Apps Script
GSP250

Overview
Hangouts Chat bots provide easy-to-use access points to your organization's data and services. Users can interact with bots conversationally within a chat experience.
Among other implementation options, you can create a Hangouts Chat bot using Google Apps Script. By building your bot in Apps Script, you can easily access other Google services like Drive, Gmail, Calendar, Docs, Sheets, and much more.
In this lab, you learn how to create a simple Hangouts Chat bot—"Attendance Bot"—using Google Apps Script. The bot integrates with Gmail to set a user's vacation responder and integrates with Calendar to put a meeting on the user's calendar.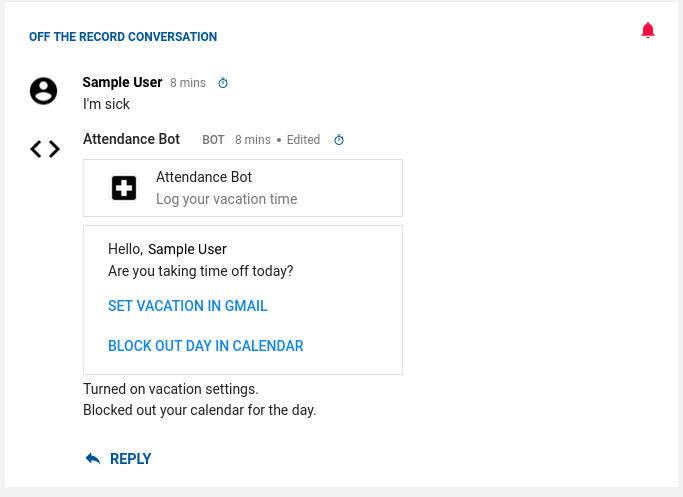 What you'll learn
How to add handlers in events raised in Hangouts Chat

How to parse event objects sent from Hangouts Chat

How to respond back to Hangouts Chat with card-formatted responses

How to define and react to custom actions for button clicks in cards
Bergabunglah dengan Qwiklabs untuk membaca tentang lab ini selengkapnya... beserta informasi lainnya!
Dapatkan akses sementara ke Google Cloud Console.
Lebih dari 200 lab mulai dari tingkat pemula hingga lanjutan.
Berdurasi singkat, jadi Anda dapat belajar dengan santai.
Bergabung untuk Memulai Lab Ini