Checkpoints
Create a Pub/Sub Subscription
Create an IoT Registry (region: us-central1)
APIs Explorer: PubSub and IoT
GSP284

Overview
The Google APIs Explorer is a tool that helps you explore various Google APIs interactively. With the APIs Explorer, you can:
Browse quickly through available APIs and versions.
See methods available for each API and what parameters they support along with inline documentation.
Execute requests for any method and see responses in real time.
Make authenticated and authorized API calls.
Search across all services, methods, and your recent requests to quickly find what you are looking for.
Cloud IoT Core is a fully managed service that allows you to easily and securely connect, manage, and ingest data from millions of globally dispersed devices. In this lab you'll build a simple but complete IoT system using Cloud IoT Core and Pub/Sub.
The devices in this system publish temperature data to their telemetry feeds, and a server consumes the telemetry data from a Cloud Pub/Sub topic. The server then decides whether to turn on or off the individual devices' fans, via a Cloud IoT Core configuration update. The device will respond to configuration changes from a server based on real-time data.
To accomplish this, you will create Pub/Sub topics and subscriptions as well as IoT registries and devices. You will configure and deploy these services with the Google APIs Explorer. The following model illustrates how the system's components are interconnected: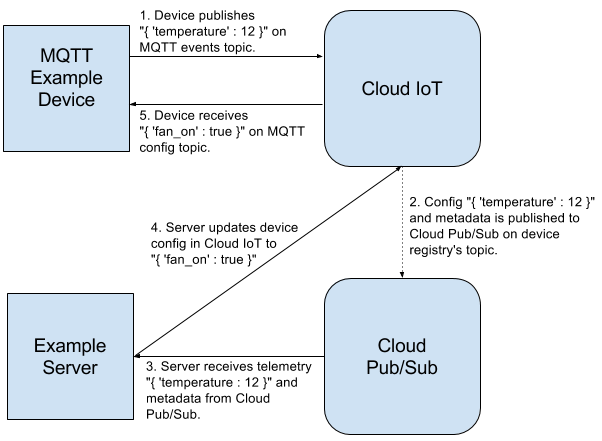 Objectives
In this lab, you will:
Create a Pub/Sub topic and subscription with the APIs Explorer.
Create an IoT registry and add a device to it.
Provision a device and transmit telemetry data from it.
Control a device using a server based on a telemetry stream.
Prerequisites
This is an advanced level lab. You should be familiar with the basic functioning and architecture of APIs. Experience with Cloud Shell and command line interface tools is recommended.
Familiarity with the the APIs Explorer tool, Cloud IoT, and Cloud Pub/Sub is recommended, so please at a minimum take the following labs before attempting this one:
Once you're ready, scroll down and follow the steps below to get your lab environment set up.
Join Qwiklabs to read the rest of this lab...and more!
Get temporary access to the Google Cloud Console.
Over 200 labs from beginner to advanced levels.
Bite-sized so you can learn at your own pace.
Join to Start This Lab