—/100
Checkpoints
arrow_forward
Create an instance template
Configure autoscaling for the instance group
Autoscaling an Instance Group with Custom Cloud Monitoring Metrics
GSP087

This lab will you will create a Compute Engine managed instance group that autoscales based on the value of a custom Cloud Monitoring metric.
Objectives
Deploy an autoscaling Compute Engine instance group.
Create a custom metric used to scale the instance group.
Use the Cloud Console to visualize the custom metric and instance group size.
Application architecture
The autoscaling application uses a Node.js script installed on Compute Engine instances. The script reports a numeric value to a Cloud monitoring metric. You do not need to know Node.js or JavaScript for this lab. In response to the value of the metric, the application autoscales the Compute Engine instance group up or down as needed.
The Node.js script is used to seed a custom metric with values that the instance group can respond to. In a production environment, you would base autoscaling on a metric that is relevant to your use case.
The application includes the following components:
Compute Engine instance template - A template used to create each instance in the instance group.
Cloud Storage - A bucket used to host the startup script and other script files.
Compute Engine startup script - A startup script that installs the necessary code components on each instance. The startup script is installed and started automatically when an instance starts. When the startup script runs, it in turn installs and starts code on the instance that writes values to the Cloud monitoring custom metric.
Compute Engine instance group - An instance group that autoscales based on the Cloud monitoring metric values.
Compute Engine instances - A variable number of Compute Engine instances.
Custom Cloud Monitoring metric - A custom monitoring metric used as the input value for Compute Engine instance group autoscaling.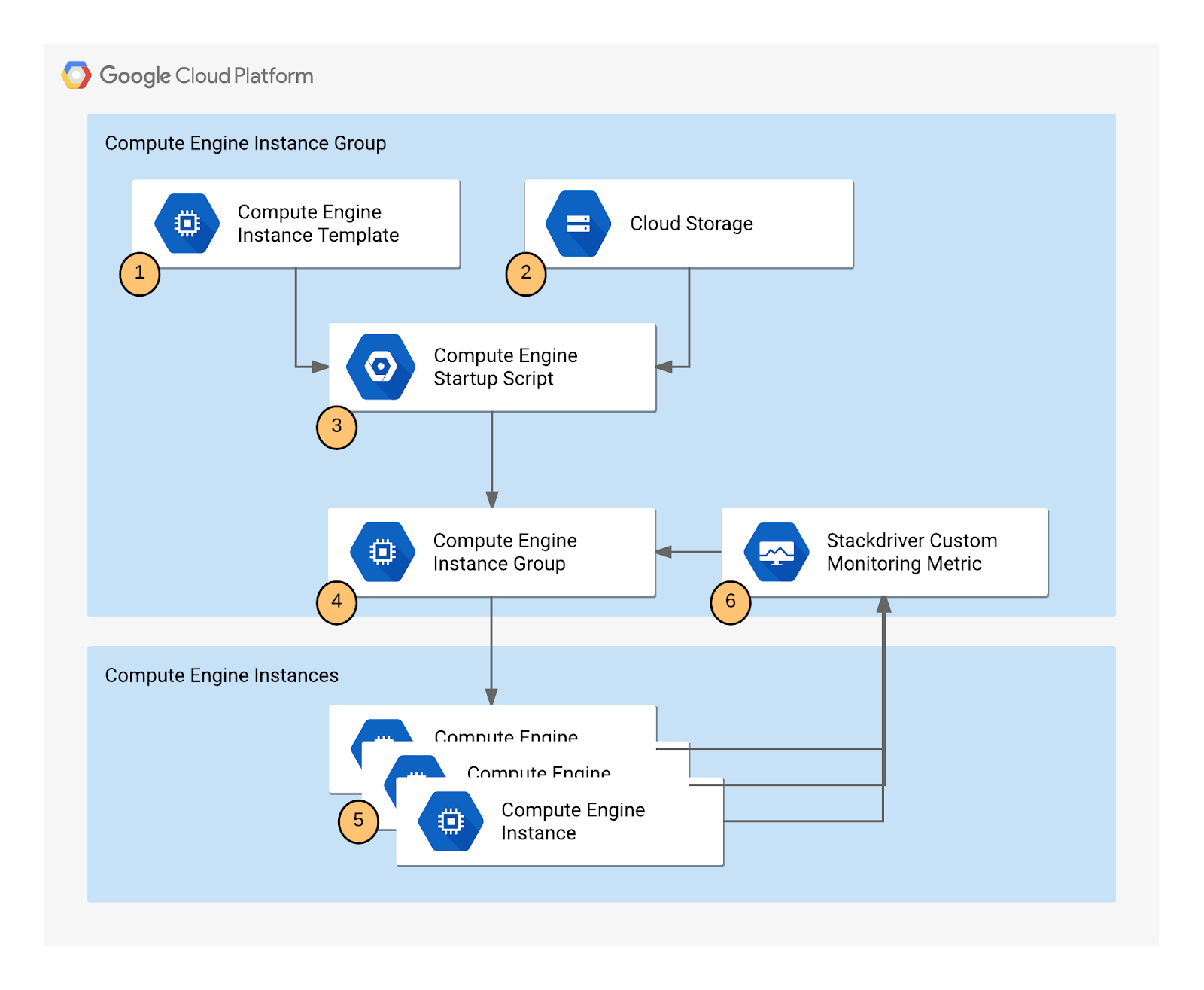 Setup and Requirements
Before you click the Start Lab button
Read these instructions. Labs are timed and you cannot pause them. The timer, which starts when you click Start Lab, shows how long Google Cloud resources will be made available to you.
This Qwiklabs hands-on lab lets you do the lab activities yourself in a real cloud environment, not in a simulation or demo environment. It does so by giving you new, temporary credentials that you use to sign in and access Google Cloud for the duration of the lab.
What you need
To complete this lab, you need:
Access to a standard internet browser (Chrome browser recommended).
Time to complete the lab.
Note: If you already have your own personal Google Cloud account or project, do not use it for this lab.
Note: If you are using a Pixelbook, open an Incognito window to run this lab.
How to start your lab and sign in to the Google Cloud Console
Click the Start Lab button. If you need to pay for the lab, a pop-up opens for you to select your payment method. On the left is a panel populated with the temporary credentials that you must use for this lab.

Copy the username, and then click Open Google Console. The lab spins up resources, and then opens another tab that shows the Sign in page.

Tip: Open the tabs in separate windows, side-by-side.

In the Sign in page, paste the username that you copied from the Connection Details panel. Then copy and paste the password.

Important: You must use the credentials from the Connection Details panel. Do not use your Qwiklabs credentials. If you have your own Google Cloud account, do not use it for this lab (avoids incurring charges).

Click through the subsequent pages:

Accept the terms and conditions.
Do not add recovery options or two-factor authentication (because this is a temporary account).
Do not sign up for free trials.
After a few moments, the Cloud Console opens in this tab.
Activate Cloud Shell
Cloud Shell is a virtual machine that is loaded with development tools. It offers a persistent 5GB home directory and runs on the Google Cloud. Cloud Shell provides command-line access to your Google Cloud resources.
In the Cloud Console, in the top right toolbar, click the Activate Cloud Shell button.

Click Continue.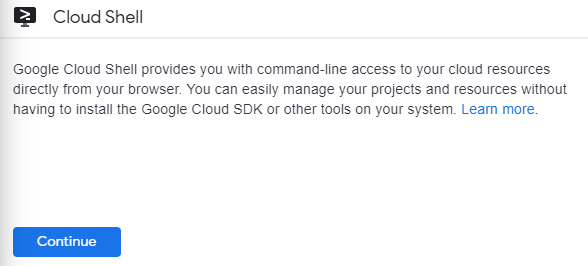 It takes a few moments to provision and connect to the environment. When you are connected, you are already authenticated, and the project is set to your PROJECT_ID. For example:

gcloud is the command-line tool for Google Cloud. It comes pre-installed on Cloud Shell and supports tab-completion.
You can list the active account name with this command:
gcloud auth list

(Output)
Credentialed accounts:
 - <myaccount>@<mydomain>.com (active)

(Example output)
Credentialed accounts:
 - google1623327_student@qwiklabs.net

You can list the project ID with this command:
gcloud config list project

(Output)
[core]
project = <project_ID>

(Example output)
[core]
project = qwiklabs-gcp-44776a13dea667a6

加入 Qwiklabs 即可阅读本实验的剩余内容…以及更多精彩内容!
获取对"Google Cloud Console"的临时访问权限。
200 多项实验,从入门级实验到高级实验,应有尽有。
内容短小精悍,便于您按照自己的节奏进行学习。
加入以开始此实验