Checkpoints
Generate a new container image
Creating a Kubernetes cluster on Container Engine
Configuring the assets disk in Kubernetes
Setting up the scaling manager
Configure the Openarena Scaling Manager Deployment File
Running Dedicated Game Servers in Google Kubernetes Engine
1 hour 30 minutes
9 Credits
GSP133

Packaging server applications as containers is quickly gaining traction across the tech landscape, and game companies are no exception. Many game companies are interested in using containers to improve VM utilization as well as take advantage of their isolated run-time paradigm. Despite high interest, many companies don't know where to start.
This lab will show you how to use an expandable architecture for running a real-time, session-based multiplayer dedicated game server using Kubernetes on Google Kubernetes Engine. A scaling manager process is configured to automatically start and stop virtual machine instances as needed. Configuration of the machines as Kubernetes nodes is handled automatically by managed instance groups. The online game structure presented in this lab is intentionally simple, and places where additional complexity might be useful or necessary are pointed out where appropriate.
Objectives
Create a container image of a popular open-source dedicated game server (DGS) on Linux using Docker. This container image adds only the binaries and necessary libraries to a base Linux image.

Store the assets on a separate read-only persistent disk volume and mount them in the container at run-time.

Setup and configure basic scheduler processes using the Kubernetes and Google Cloud APIs to spin up and down nodes to meet demand.
Before you begin start the download of the game client
In this lab you'll be creating a game server, and to test the server, you need to connect to a game client. The OpenArena game client is available for many operating systems, as long as you can install it on your local machine. If you cannot install a game client on the machine you're currently using, consider taking this lab when you are using a machine you can install a game client on. Validating your work by connecting to a game client is not required, you can choose not to. Taking this lab will still show you how to create a dedicated game server, you just won't be able to confirm it works.
Install the OpenArena game client on your computer to test the connection to the game server at the end of the lab :
http://openarena.wikia.com/wiki/Manual/Install

This will take a while. Start working on the lab while it downloads, and check back in about 30 min to see if it's finished. Then install the game client.
Architecture overview
The Overview of Cloud Game Infrastructure discusses the high-level components common to many online game architectures. In this lab you implement a Kubernetes DGS cluster frontend service and a scaling manager backend service. A full production game infrastructure would also include many other frontend and backend services which are outside the scope of this solution.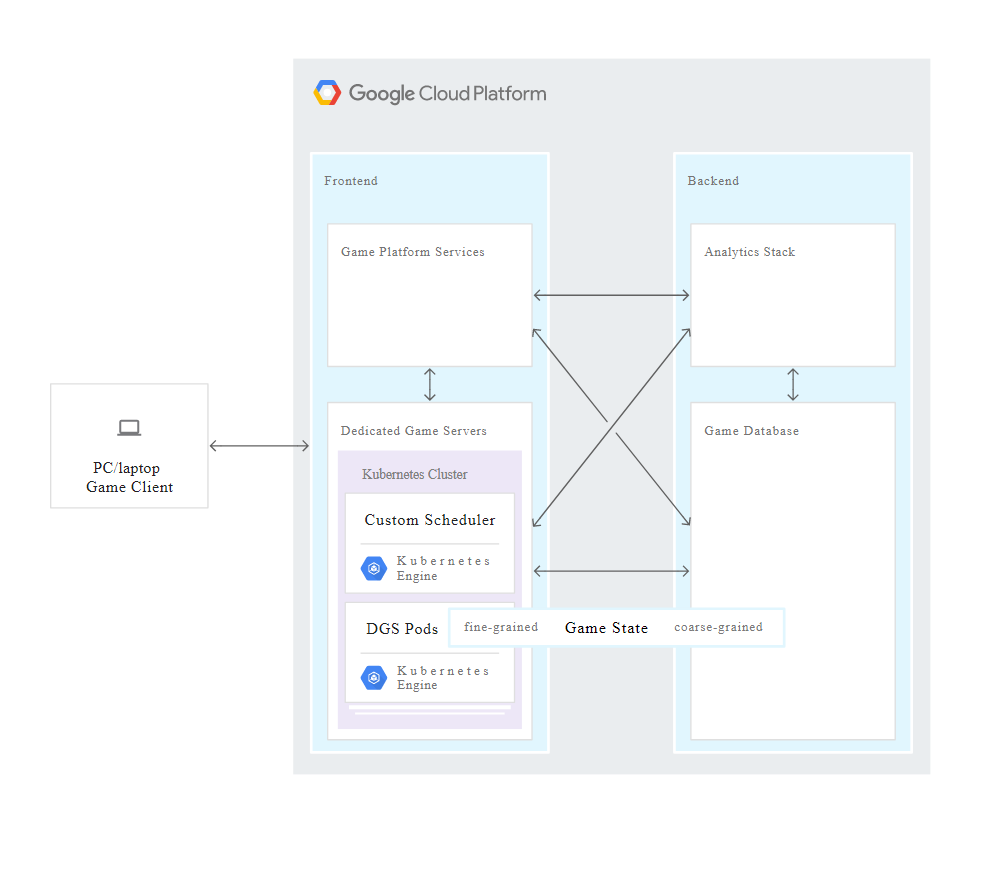 Constructive constraints
In an effort to produce an example that is both instructive and simple enough to extend, this lab assumes the following game constraints:
This is a match-based real-time game with an authoritative DGS that simulates the game State.
The DGS communicates over UDP.
Each DGS process runs one match.
All DGS processes generates approximately the same amount of load.
Matches have a maximum length.
DGS startup time is negligible, and 'pre-warming' of the dedicated game server process isn't necessary.
Customer experience impact should be avoided as much as possible:
Once peak time has passed, matches should not be ended prematurely in order to scale down the number of VM instances.
However, if the dedicated game server process encounters an issue and cannot continue, the match state is lost and the user is expected to join a new match.
The DGS process loads static assets from disk but does not require write access to the assets.
These constraints all have precedent within the game industry, and represent a real-world use case.
Setup and Requirements
Qwiklabs setup
Before you click the Start Lab button
Read these instructions. Labs are timed and you cannot pause them. The timer, which starts when you click Start Lab, shows how long Google Cloud resources will be made available to you.
This Qwiklabs hands-on lab lets you do the lab activities yourself in a real cloud environment, not in a simulation or demo environment. It does so by giving you new, temporary credentials that you use to sign in and access Google Cloud for the duration of the lab.
What you need
To complete this lab, you need:
Access to a standard internet browser (Chrome browser recommended).
Time to complete the lab.
Note: If you already have your own personal Google Cloud account or project, do not use it for this lab.
Note: If you are using a Chrome OS device, open an Incognito window to run this lab.
How to start your lab and sign in to the Google Cloud Console
Click the Start Lab button. If you need to pay for the lab, a pop-up opens for you to select your payment method. On the left is a panel populated with the temporary credentials that you must use for this lab.

Copy the username, and then click Open Google Console. The lab spins up resources, and then opens another tab that shows the Sign in page.

Tip: Open the tabs in separate windows, side-by-side.

In the Sign in page, paste the username that you copied from the Connection Details panel. Then copy and paste the password.

Important: You must use the credentials from the Connection Details panel. Do not use your Qwiklabs credentials. If you have your own Google Cloud account, do not use it for this lab (avoids incurring charges).

Click through the subsequent pages:

Accept the terms and conditions.
Do not add recovery options or two-factor authentication (because this is a temporary account).
Do not sign up for free trials.
After a few moments, the Cloud Console opens in this tab.
Activate Cloud Shell
Cloud Shell is a virtual machine that is loaded with development tools. It offers a persistent 5GB home directory and runs on the Google Cloud. Cloud Shell provides command-line access to your Google Cloud resources.
In the Cloud Console, in the top right toolbar, click the Activate Cloud Shell button.

Click Continue.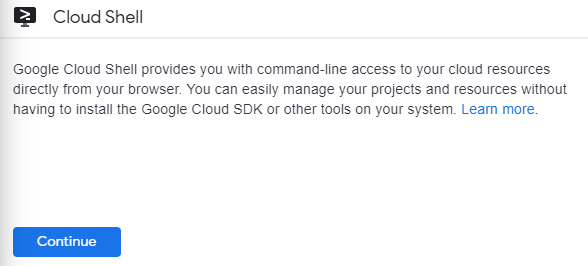 It takes a few moments to provision and connect to the environment. When you are connected, you are already authenticated, and the project is set to your PROJECT_ID. For example:

gcloud is the command-line tool for Google Cloud. It comes pre-installed on Cloud Shell and supports tab-completion.
You can list the active account name with this command:
gcloud auth list

(Output)
Credentialed accounts:
 - <myaccount>@<mydomain>.com (active)

(Example output)
Credentialed accounts:
 - google1623327_student@qwiklabs.net

You can list the project ID with this command:
gcloud config list project

(Output)
[core]
project = <project_ID>

(Example output)
[core]
project = qwiklabs-gcp-44776a13dea667a6

Join Qwiklabs to read the rest of this lab...and more!
Get temporary access to the Google Cloud Console.
Over 200 labs from beginner to advanced levels.
Bite-sized so you can learn at your own pace.
Join to Start This Lab