Implement DevOps in Google Cloud
7 Stunden Fundamental universal_currency_alt 36 Guthabenpunkte
Earn a
skill badge
by completing the
Implement DevOps in Google Cloud
quest, where you will learn about
DevOps
- an organizational and cultural movement that aims to increase software delivery velocity, improve service reliability, and build shared ownership among software stakeholders. Specifically, you will learn how to: create a git repository using Google Cloud Source Repositories, launch, manage, and scale deployments using Google Kubernetes Engine, set up a Kubernetes cluster and deploy Load Balancer type NGINX using Terraform; create and monitor a GKE cluster using Cloud Monitoring and Cloud Logging; use Jenkins on Kubernetes Engine to develop a continuous delivery pipeline.
A skill badge is an exclusive digital badge issued by Google Cloud in recognition of your proficiency with Google Cloud products and services and tests your ability to apply your knowledge in an interactive hands-on environment. Complete the skill badge quest, and final assessment challenge lab, to receive a digital badge that you can share with your network.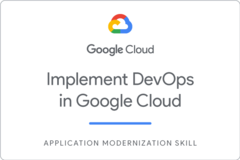 Wenn Sie alle Aktivitäten in diesem Kurs abschließen, erhalten Sie ein Abzeichen. Sammeln Sie in Qwiklabs Abzeichen durch das Abschließen von Aufgabenreihen, Spielen und Kursen. Sie können mit ihnen auf Ihre Kompetenzen aufmerksam machen.
Lab
In diesem Lab erstellen Sie ein lokales Git-Repository, das Dateien für eine App Engine-Beispielanwendung enthält, fügen ein GCP-Repository als Remote-Repository hinzu und übertragen den Inhalt des lokalen Repository.
Lab
Bei den Best Practices für Dev Ops werden häufig mehrere Deployments genutzt, um verschiedene Szenarien des Anwendungs-Deployments zu verwalten. In diesem Lab üben Sie das Skalieren und Verwalten von Containern für gängige Szenarien, in denen mehrere heterogene Deployments verwendet werden.
Lab
In Terraform ist ein Provider die logische Abstraktion einer vorgelagerten API. In diesem Lab erfahren Sie, wie Sie einen Kubernetes-Cluster einrichten und einen Nginx-Dienst vom Typ Load-Balancer darin bereitstellen.
Lab
The Cloud Operations Sandbox is intended to make it easy for you to deploy and run a non-trivial application that lets you explore the Google Cloud Platform services, particularly the Cloud Operations (formerly Stackdriver) product suite.
Lab
In diesem Lab werden Sie mit Jenkins in Kubernetes Engine eine Continuous Delivery-Pipeline bereitstellen und vollständig konfigurieren. Dabei durchlaufen Sie den gesamten Prozess von der Entwicklung bis hin zum Deployment.
Lab
This challenge labs tests your skills in implementing a continuous deployment pipeline using the Jenkins build and deployment automation tool