Monitor and Log with Google Cloud Operations Suite
7 godz. Fundamental universal_currency_alt Punkty: 39
Earn a
skill badge
by completing the
Monitor and Log with Google Cloud Operations Suite
quest, where you learn about common tasks when starting with Google Cloud's operations suite, including how to: 1. Monitor virtual machines in Compute Engine. 2. Use Cloud Monitoring to monitor multiple projects. 3. Extend monitoring and logging for Cloud Functions. 4. Create and send custom metrics for application data. 5. Create Cloud Monitoring alerts based on custom metrics. 6. Adjust resources based on monitoring metrics.
A skill badge is an exclusive digital badge issued by Google Cloud in recognition of your proficiency with Google Cloud products and services and tests your ability to apply your knowledge in an interactive hands-on environment. Complete the skill badge quest, and final assessment challenge lab, to receive a digital badge that you can share with your network.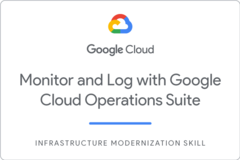 Jeśli wykonasz wszystkie zadania w tym szkoleniu, otrzymasz odznakę. Zbieraj odznaki w Qwiklabs za ukończone kursy, gry i szkolenia. Zdobądź je wszystkie, aby pochwalić się swoimi umiejętnościami.